One of the most powerful central vac system engines out there, the MVAC M120 comes from a company that is known for being reliable and forward-thinking when it comes to their products. MVAC has innovated several technologies related to central vac systems to reduce their noise and increase their overall efficiency.
The MVAC M120 system is perfect for anyone who has a very large home of more than 10,000 square feet, or needs a system that will clean a commercial building.
Thanks to the fact that the system uses a hybrid bag, cleaning only needs to be done occasionally and with the gamma model, an alert is sent out indicating that the canister is full.
In addition, the M120 uses MVAC's AntiVibraSon technology, which keeps the volume of the system down to no more than the level of someone talking. The technology also greatly reduces the vibration of the system.
Another big plus for the M120 is the fact that it has a self-cleaning HEPA membrane filter. This filter will capture the smallest particles and ensure the home or office is completely free of harmful dust-born particles. For anyone who suffers from asthma or breathing problems, this is a big benefit.
If you are in need of a system that is going to roar to life, quietly of course, and provide you with the ability to clean a huge area and make the air pure as possible, then the M120 is the perfect system for you.
Details:
Hybrid central vacuum – 240V
Gamma Technology
1160 Airwatts
Cleaning surface: 930 m2 / 10 000 ft.2 and more
Warranty : 15 years or 750 hours of use
Designed for large homes and commercial buildings
Hybrid model that can be used with or without bag, at any time
Gamma model equipped with an Information Center which signals recommended maintenance by indicating when to change the bag or empty the canister, and when to consult a technician in a service center
Equipped with our AntiVibraSon system, which eliminates vibrations, and so keeps operating sound levels to a minimum
Self-cleaning HEPA membrane filter which captures microscopic particles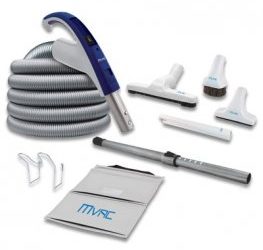 MVAC Confort Electric attachment kit for central vacuums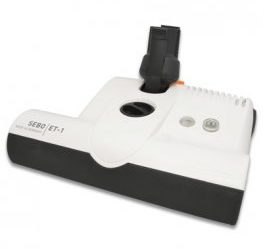 The Sebo ET-1 has a 4-level manual height adjustment, is 3.5 in. ultra low profile, and has a 180° steering ability.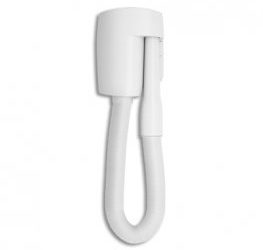 The right attachments make the job easier, and everything is finished quicker.