If you live in a condo or an apartment, where there is not a lot of space, but you want a central vac system that gets the job done for you, then the MVAC M47 may be just the system for you.
Allowing you to run a maximum of six inlet valves, and boasting 670 air watts of power, this central vac system will keep your apartment or condo clean.
This system is perfect for anyone who doesn't have the space to keep a vacuum in a closet, but wants to get all the hard to reach dirt and grime that is in the corners of the apartment or condo, or deep in the carpet. With a permanent filter and dirt bag that holds five gallons of debris, this system will keep running for you, day after day.
The M47 uses MVAC's excellent AntiVibraSon system, which reduces the amount of vibration from the engine, while at the same time reducing the sound as well. The self-cleaning filter uses HEPA filters to increase the overall air quality in your home. In addition, each filter is coated in Teflon to improve its performance for you in the home.
While the M47 system is great for an apartment or condo, it can handle up to 7,000 square feet, which is a huge amount of area. It will operate at less than 64 decibels, which is about how loud people talk, and it includes a mounting bracket.
If you want an excellent system that will keep your home clean and runs nice and quiet, then the M47 is the perfect system for you.
Details:
Compact central vacuum with bag – 120 V
650 Airwatts
Warranty: 10 years *
Designed for average to large homes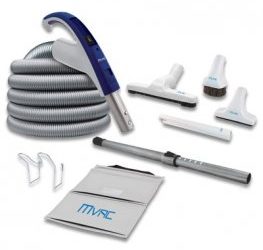 MVAC Confort Electric attachment kit for central vacuums
So, when you upgrade to a central vac system, you may not be thinking about getting it serviced but it is actually very important that you do.
How long does it take to install a central vacuum system is one of the top questions we get asked.  When you think about a central vacuum systme going into your home, it may seem like a hugely daunting process.