Designed for average to large homes, the MVAC M70 system is great if you have a lot to clean, and you want a system that can handle it all. Running at 600 airwatts, you would think the M70 would be a loud behemoth revving in your basement, but it is actually very quiet.
This is all thanks to MVAC. MVAC is known for building and inventing some of the best central vac systems on the market today.
One of their biggest innovations was the AntiVibraSon system. This system eliminates the vibration of the central vac engine, which reduces the noise you are going to hear. The noise level is actually kept to a minimum, and not much more than a person talking in terms of decibel level. For anyone who wants to clean the house but doesn't want to disturb anyone, the M70 is a perfect system.
Another great benefit from the system is the fact that it uses a self-cleaning HEPA membrane filter. This means you don't have to worry about cleaning the filter, which is coated in Teflon, and your air quality is going to be excellent for years to come.
In addition, the M70 is a hybrid model, which means you can use it with a bag, or without a bag, at any point. For those who like to change vacuum bags, you can do just that. For the rest of us, no more vacuum bags.
In all, it will clean about 6,675 square feet, and it will provide you with the ability to keep a very clean home.
Details:
Hybrid filtration system – 120V
600 Airwatts
Warranty: 15 years*
Cleaning surface: up to 650 m2 / 6675 ft2
Gamma technology
Hybrid model that can be used with or without bag, at any time
Equipped with our AntiVibraSon system, which eliminates vibrations, and so keeps operating sound levels to a minimum
Self-cleaning HEPA membrane filter which captures microscopic particles
Warranty: 15 years or 750 hours
Gamma model equipped with an information center that indicates when to change the bag, when to do the maintenance, and even when to have the unit checked by a service center.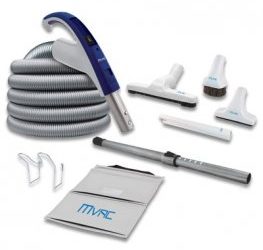 MVAC Confort Electric attachment kit for central vacuums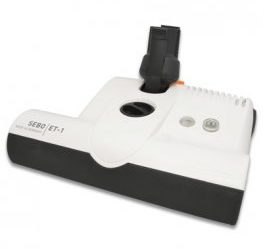 The Sebo ET-1 has a 4-level manual height adjustment, is 3.5 in. ultra low profile, and has a 180° steering ability.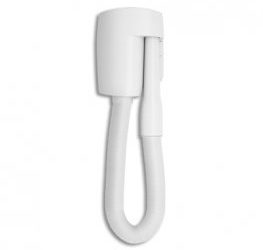 The right attachments make the job easier, and everything is finished quicker.