VACUFLO
Filtered Cyclonic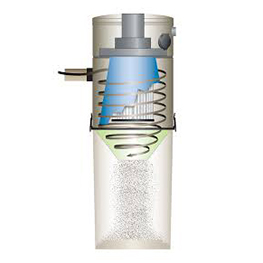 VACUFLO Filtered Cyclonic power units utilize cyclonic separation for primary filtration and a pleated filter for secondary filtration. Unlike central vacuum systems that rely on permanent cloth filters, the powerful performance of VACUFLO will not decrease as dirt accumulates.
Filtered Cyclonic is a great choice for retractable hose systems because it features a pleated cartridge filter. This filter needs to be changed at least once a year. The Filtered Cyclonic can provide ample power, quiet operation and on-board inlet valves which is an easy access to your unit when installed in a basement, garage or utility room without needing to install an additional valve. It is optional to exhaust these units outside making them a great choice for retrofit installations and in situations where the unit cannot be installed close to an exterior wall of the home.
Details:
Optional to exhaust outdoors
Utilizes cyclonic separation for primary filtration and a pleated cartridge filter for -secondary filtration
Wide range of units to accommodate any home size
Large capacity dirt receptacle
Removes 100% of vacuumed dirt, dust, allergens and debris from the home
Provides for whole-house cleaning with one simple system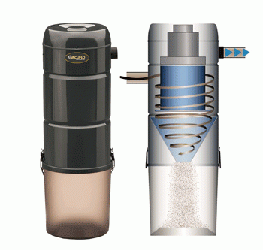 VACUFLO True Cyclonic Power Units provide sustained cleaning power by separating the dirt from the airflow without the use of bags or filters!