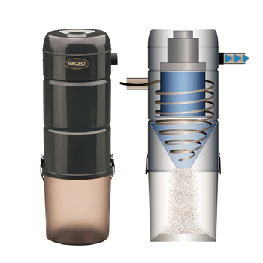 VACUFLO True Cyclonic Power Units provide sustained cleaning power by separating the dirt from the airflow without the use of bags or filters! The powerful cleaning performance will not decrease as dirt accumulates. True Cyclonic is our tried and true power unit – bagless, filterless and a workhorse of a central vacuum. 
With a 6-gallon dirt canister and the unit being exhausted outside the home with the True Cyclonic means that minimal maintenance is needed throughout the year. Empty the dirt canister and clean the permanent filter screen every 4-6 months to promote maximum air flow to the motor allowing for consistent power and worry-free operation each and every time you vacuum.
Details:
No bags or filters needed
Required to be exhausted outside
Limited Lifetime Warranty
Wide range of units to accommodate any home size
Large capacity dirt receptacle
Removes 100% of vacuumed dirt, dust, allergens and debris from the home
Assembled in Canton, Ohio by H-P Products, a trusted name in the industry
Provides for whole-house cleaning with one simple system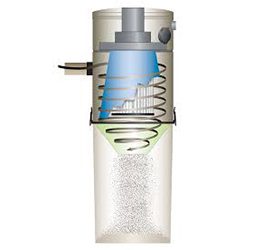 VACUFLO Filtered Cyclonic power units utilize cyclonic separation for primary filtration and a pleated filter for secondary filtration. Unlike central vacuum systems that rely on permanent cloth filters, the powerful performance of VACUFLO will not decrease as dirt accumulates.