It is one of the most powerful vacuum systems on the market and it is perfect for anyone who has a large space to vacuum and wants their central vac to do the job. The MVAC M80 Central Vacuum Unit.
The M80 is a system that comes from a company that has been known to innovate new central vacuum products, while also providing decades of reliability. MVAC is a company that puts out excellent products to ensure their customers only get the best.
The M80 is a central vac system that is powerful enough for most homes and it features the hybrid filtration system. This is great for anyone who hates cleaning filters because it is self-cleaning, with the option of using the system's disposable bag.
Running at 700 airwatts, it has the AntiVibraSon system installed. This system will eliminate any vibrations, so it will be quiet and it won't be shaking your house. In addition, it runs at only 58 decibels, which is quieter than a human talking, or a television with the volume up.
The benefits of the M80 system is that it will get all the dirt in your home, and cover a huge area for you. For anyone who does a lot of vacuuming through the week, this system is perfect. In addition, with its quiet running level, it won't disturb anyone while you are cleaning up the house.
This system is best for someone with a large house who has a lot of dirt and grime to clean up. It is perfect, thanks to how powerful it is, for cleaning in garages or high traffic areas.
Details:
Hybrid filtration system – 120V
Gamma Grand Confort attachment kit included
Gamma Technology
700 Airwatts
Warranty : 15 years or 750 hours of use*
Designed for large homes and commercial buildings
Suitable for installations with retractable hose inlets
Hybrid model that can be used with or without bag, at any time
Gamma model equipped with an Information Center which signals recommended maintenance by indicating when to change the bag or empty the canister, and when to consult a technician in a service center
Equipped with our AntiVibraSon system, which eliminates vibrations, and so keeps operating sound levels to a minimum
Self-cleaning HEPA membrane filter which captures microscopic particles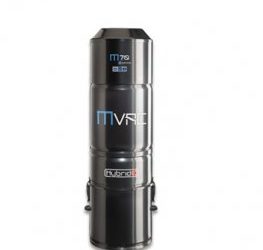 This system eliminates the vibration of the central vac engine, which reduces the noise you are going to hear.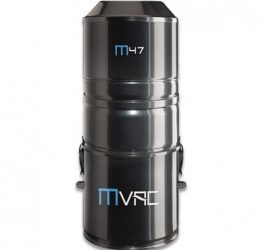 If you live in a condo or an apartment, where there is not a lot of space, but you want a central vac system that gets the job done for you, then the MVAC M47 may be just the system for you.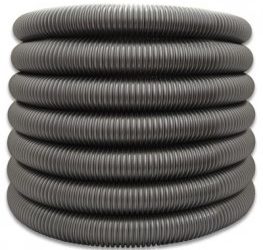 The MVAC RetraFlex Hose is light, flexible and retracts in a flash. One of the issues that some people have with a central vacuum system is finding a space for the hose, which can be as long as 30 to 50 feet.